To accommodate our members, we are temporarily changing club hours given the recent decision of the city to limited access to downtown through the weekend. Therefore, the Club will close at 9 pm Thursday and Friday this week, and open at 6 am on Friday and Monday. Our weekend hours (7 am - 7 pm) are not affected.
Locker Rooms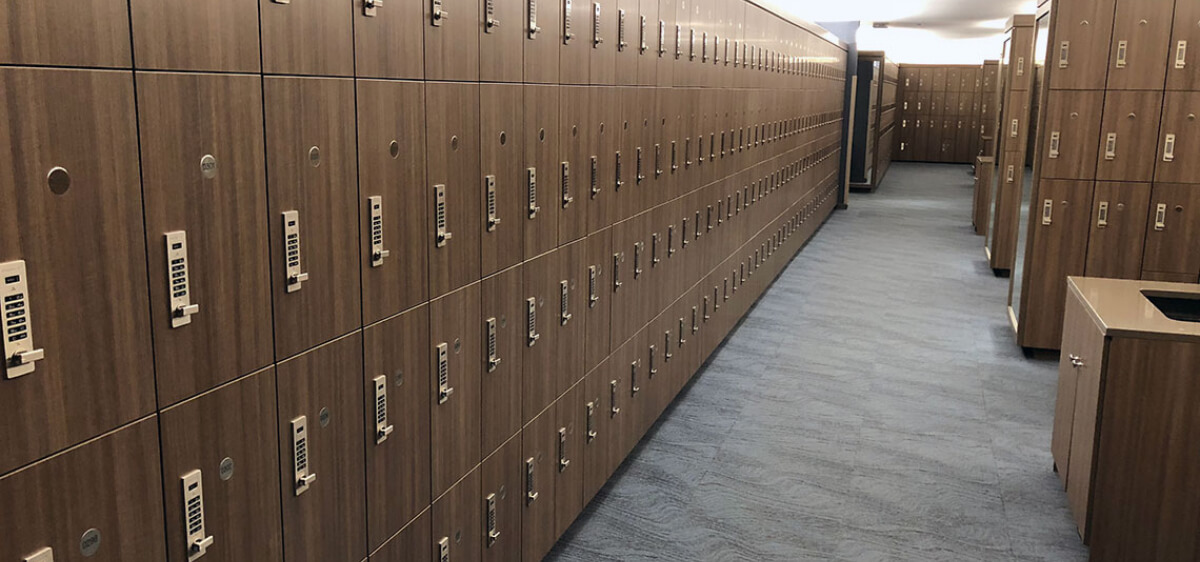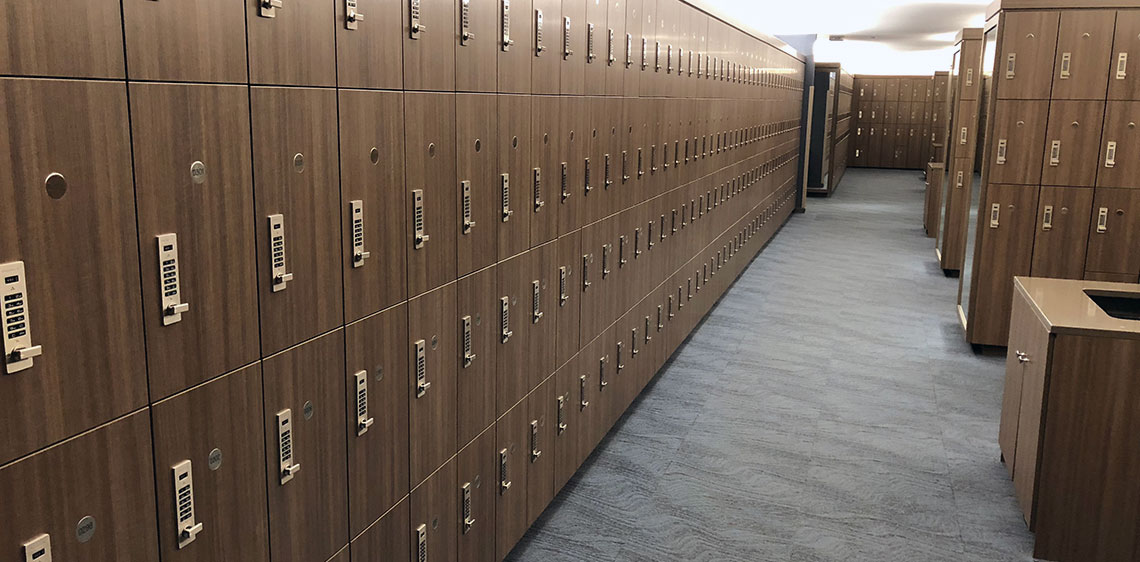 IMMACULATE, SPACIOUS & MODERN LOCKER ROOMS
The recently remodeled locker rooms at EBC offer an abundance of complimentary full-length daily lockers as well as rental lockers. The lockers feature digital locks and vents in the front and the back for extra ventilation. Changing areas feature carpeted floors, extra-wide full-length mirrors and cushioned seating. The marble-tiled shower and vanity areas are beautifully designed and are stocked with body care products. Members can relax in lounge areas, complete with chairs, sofas and televisions, as well as in our steam rooms, saunas and whirlpools. Large, plush towels are on-hand at every turn, and sleep rooms are available when you need a little catnap.
RENTAL LOCKERS
Rental lockers are available for a monthly fee for those who wish to store their belongings overnight. Members can apply for a rental locker at the locker room desk. Locker fees are automatically billed monthly unless cancelled with a cancellation form from the locker room desk or Member Accounts.
MEN'S LOCKER ROOM RENTAL LOCKERS
Prices are per month.
Small Locker: $16
21 in. H x 12 in. W x 19 in D
Medium Locker: $21
26 in. H x 14 in. W x 19 in. D
Large Locker: $32
42 in. H x 12 in. W x 19 in. D
WOMEN'S LOCKER ROOM RENTAL LOCKERS
Prices are per month.
Small Locker: $16
19 in. H x 12 in. W x 18 in. D
Medium Locker: $21
26 in. H x 12 in./14 in. W x 18 in. D
Large Locker: $32
39.5 in. H x 12 in. W x 18 in. D
DAILY LOCKERS
Daily lockers are complimentary and available for storage of your belongings while you are at the club. They may not be left occupied overnight or when not on the Club premises.
SAUNAS, STEAM ROOMS AND WHIRLPOOLS
Both the Men's and Women's Locker Rooms have two saunas, two steam rooms and a whirlpool. we invite you to relax and ease your tired muscles.
VANITY AREAS
Our spacious vanity areas feature complimentary shampoo, conditioner, body lotion, soap, razors, shaving cream, mouthwash, deodorant, cotton swabs, hair spray, blow dryers, curling and flat irons, and diffusers. Plastic bags for damp clothes are available at the locker room desk, and a clothes steamer is located in the reception area of the Women's Locker Room.
LOUNGES
Both locker rooms feature lounges with televisions where you can unwind before and after your workouts.
LAUNDRY SERVICE
We wash it and dry it. Simply put your laundry in one of our laundry bags, and we'll take care of the rest. You may purchase as many bags as you wish and pay the cleaning fee each time you turn in a bag. Laundry Bag: $7 Cleaning: $2
SHOE SHINE
Give yourself that neater, more confident edge with a good shine. Simply give your shoes to our staff at the locker room desk and we will have them professionally shined and waiting for you. Shoes: $2 Boots: $4
SECURITY
For your protection, please keep your locker locked at all times. Complimentary safety deposit boxes are available at the locker room desk. We recommend using the boxes for all of your valuables.
GENERAL GUIDELINES
For your protection, please keep your locker locked at all times.
Please deposit valuables in a safety deposit box at the locker room desk.
East Bank Club is not responsible for lost or stolen articles left in lockers, in the locker rooms, or on the Club's premises.
Daily change lockers may be used only when you are in the Club.
Shirts and shoes must be worn in all public areas of the Club outside of the locker rooms.
Please deposit towels and debris in the receptacles provided.
Smoking, food and beverages are not permitted.
Hair products for bleaching and dying may not be used.
We recommend wearing shower sandals in all the wet areas of the locker room.
DEVICE-FREE ZONE
Because of photography and video capabilities, device usage is a privace issue in the locker rooms. Devices may not be used in the locker rooms, with the exception of the TV lounges.
Rerfrain from using phones, tablets and laptops except in the TV lounges.
Keep your ringer off and your phone put away at all times.
If you need to take an emergency call, please step into a TV lounge as quickly as possible.
CHILDREN'S GUIDELINES
Children under 13 must be accompanied by an adult at all times.
Children under 16 are not permitted in the steam room, sauna or whirlpool.
Children ages 5 and older must use the same-sex locker room.
Family changing rooms are located at the Fourth Level Indoor Pool.