To accommodate our members, we are temporarily changing club hours given the recent decision of the city to limited access to downtown through the weekend. Therefore, the Club will close at 9 pm Thursday and Friday this week, and open at 6 am on Friday and Monday. Our weekend hours (7 am - 7 pm) are not affected.
Kayaking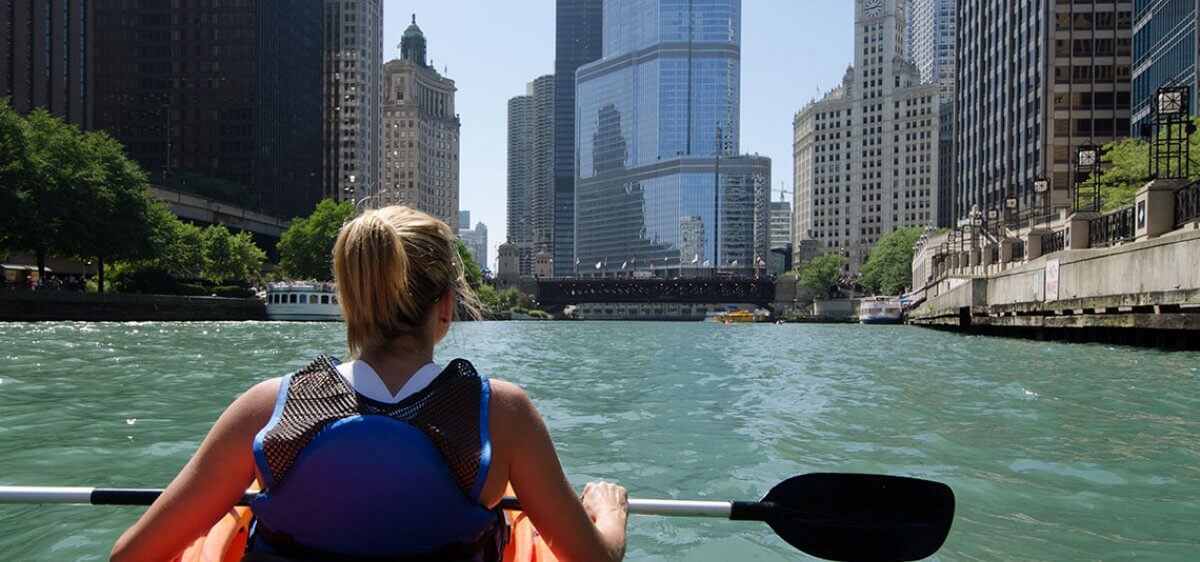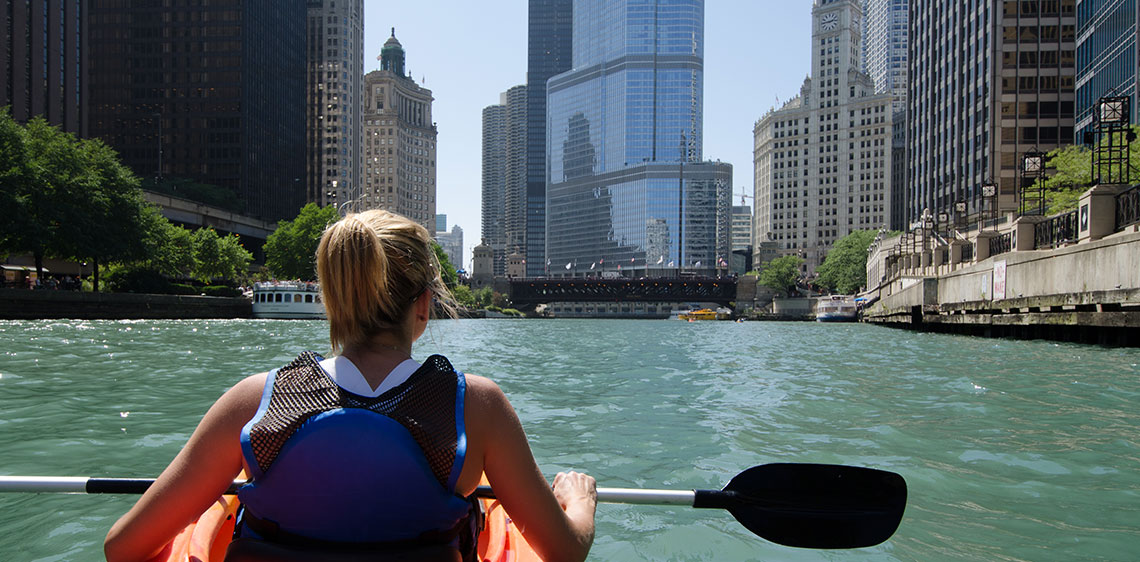 HIT THE OPEN WATER FROM THE CLUB'S DOCK ON THE RIVER.
We've teamed up with Chicago kayak tour company Wateriders to provide guided programs and boat rentals from our dock. Enjoy incredible views of the city, a sunset paddle, or simply get an excellent workout. All members receive a 35% discount. It's just one more way in which East Bank Club gives you the best of what Chicago has to offer.
Members and their guests receive the 35% discount on all Wateriders kayaking programs from the EBC dock. To receive the discount, you must enter the promo code 35EBC19 at checkout. The discount is reflected in the prices listed below; tax and a $1 online booking service fee are not included.
Kayak Rentals
Explore the river on your own with private kayak rentals from the Club's dock.
Weekdays: $16.25 per hour per person
Weekends: $19.50 per hour per person
To book a rental, click here.
Fireworks Paddle
Join us for an evening paddle to view the spectacular fireworks display off Navy Pier. You'll paddle to a spot east of Lake Shore Drive - a perfect vantage point for a great night.
$42.25 members and guests
To register, click here.
Classic Chicago Historical Kayak Tour 
This tour covers architecture and history on the Chicago River, giving kayakers a kaleidoscopic view of some of the greatest American architecture of the 20th and 21st centuries. You'll hit six stops along the tour and see Chicago in a way you never have before.
$42.25 members and guests
To register, click here.
Ghosts and Gangsters Kayak Tour 
Departing as the sun sets on the city, this tour covers the most infamous gangsters in Chicago history. Kayakers glide through the wonderfully illuminated urban river "canyon" while learning about the city's sordid past.
$42.25 members and guests
To register, click here.
Sunset Paddle
This sunset outing is a great way to learn to paddle, improve your skills and have fun. Participants will explore the south and main branches of the river while basking in the pink and orange reflections of a summer sunset.
$29.25 members and guests
To register, click here.
Moonlight Paddle
Take in the glittering lights of the city as they illuminate the river and night sky. Launching after dark, when the river is at it's calmest, this tour will cruise along the popular Riverwalk on the main branch.
$32.50 members and guests
To register, click here.