Adult Swimming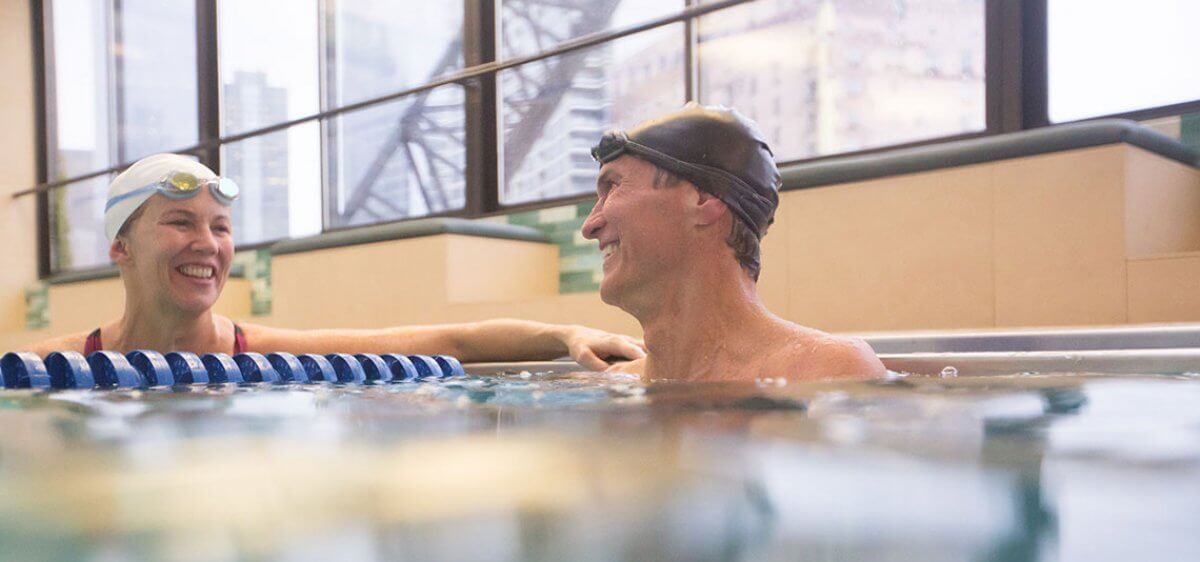 FOUR POOLS. EXPERT INSTRUCTION.
Swimming is one of the best ways to get in shape and stay in shape, and our instructors are equipped to teach it better than anyone else. Whether you're training to compete, just getting started, or looking to tone and sculpt, we're ready to help you year-round.
LAP LANE REGISTRATION
In order to provide proper physical distancing of one lane per person, lap swimming lanes must be reserved in advance. To reserve a lane, scroll to the calendar at the bottom of the page. You can filter the calendar by pool to simplify your results. Lap lanes can be reserved up to 48 hours in advance. There is a limit of one lane reservation per day. Lanes are available for members ages 16 and older only. If you are not able to utilize your lap lane reservation, please cancel your reservation to open it up for other members.
The Fourth Level Indoor Pool is used for family swimming and water aerobics, and is not available for lap swimming at the following times:
Water Aerobics
Tuesdays: 11:45 am - 12:45 pm
Wednesdays: 9:45 - 10:45 am
Thursdays: 11:45 am - 12:45 pm
Fridays: 9:45 - 10:45 am
Saturdays: 8:45 - 9:45 am
The classes are 45 minutes, with 15 minutes before class to prepare the pool.
Register on the Group Ex page.
Family Swim
Mondays: 10:15 - 11 am
Tuesdays: 9:45 - 10:30 am
Tuesdays: 3:30 - 4:15 pm
Tuesdays: 4:15 - 5 pm
Thursdays: 10:15 - 11 am
Fridays: 3:45 - 4:30 pm
Fridays: 4:30 - 5:15 pm
Fridays: 5:15 - 6 pm
Sundays: 9:30 - 10:15 am
Sundays: 10:15 - 11 am
Sundays: 11 - 11:45 am
Sundays: 11:45 am - 12:30 pm
Reservations can be made on the Children's Swimming page.